We now present our favorite movie rumor of the new year:
There's buzz that the an Arrested Development movie might actually be happening! Jeffrey Tambor, who played George Bluth Sr. on the beloved series, said as much during an interview this weekend.
On XM Radio's The Ron and Fez Show, Tambor hinted that development on the Arrested Development movie may be starting soon.
"I think we're gonna make a movie," Tambor said. "I talked to Ron Howard [series executive producer] the other day, and he hinted around that there's a real push to get the movie made, of course, after the strike. And [he asked] was I on board. I said, of course! I'd love doing that!"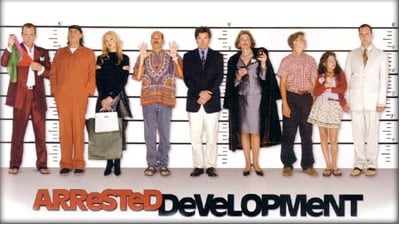 Moreover, Juno co-star and Arrested Development leading man, Jason Bateman, confirmed the rumor.
"I can confirm that a round of sniffing has started. Any talk is targeting a post-strike situation, of course," said Bateman. "I think, as always, that it's a question of whether the people with the money are willing to give our leader, Mitch Hurwitz, what he deserves for his participation. And I can speak for the cast when I say our fingers are crossed."