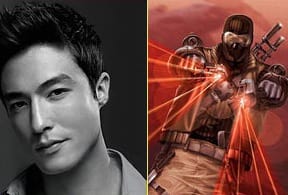 Here's our seemingly daily update on the cast of
X-Men Origins: Wolverine
...
Daniel Henney, an American expatriate actor in South Korea, will play David North, aka Agent Zero.
North is part of the clandestine Team X, which was formed by the CIA. It consists of three field agents: Logan (Wolverine), North (Agent Zero) and Victor Creed (Sabretooth, to be played by Liev Schreiber).
According to Variety, Agent Zero is an expert tracker with lethal marksman skills.
Henney joins Hugh Jackman (Wolverine), Schreiber (Sabretooth), Ryan Reynolds (Deadpool), Taylor Kitsch (Gambit), Dominic Monaghan (Beak), Will.i.am (Kestrel), Danny Huston (William Stryker), and Lynn Collins (Silver Fox) in the film that opens in May, 2009.