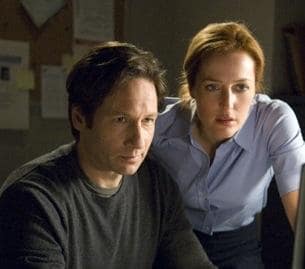 At this year's WonderCon show, one of the more popular panels was that of The X-Files 2 movie. In attendance were series creator Chris Carter, writer Frank Spotnitz and stars Gillian Anderson and David Duchovny.
Immediately, the group addressed the issues associated with the franchise's six-year absence.
"Because it'll scare the pants off of you," answered Carter when asked why this movie would be worth the wait. "Because you'll get to see Mulder and Scully together again, that's why."
For the actors, getting back into character after such an extended time away was a challenge.
"I had a really bad first couple of days," said Anderson. "I thought it was going to be really easy to step right into it. And I came to work very confident and I just sucked for a good 48 hours. It was harder than I thought."
"It was hard because a lot of time has passed for these two people as time has passed for all of us," added Duchovny. "And we want to honor the changes as well as keep them the same people. So I think we were both trying to figure out how to balance that â€" how to make them a little older and yet be the same people."
Read more about the film at IGN now.