In Bruges is a tale of two hit men (Colin Farrell and Brendan Gleeson) stuck in a Belgian tourist town. E! Online bills the film as "the greatest thing Colin has ever done."
The movie opens in March, but Farrell is ready to talk about it now...
On the In Bruges script: "It's my favorite thing I ever read." So, how does he think Oliver Stone and Michael Mann would feel about that? "F--k them!" he laughs. "I think they'd feel fine. They have an idea of how good they are."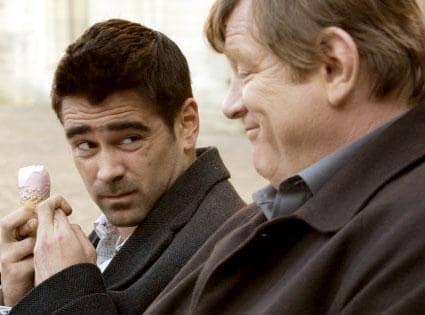 On his life in Belgium: "I was hidden, knackered after most days. I found a nice unisex steam place, all aboveboard. All these bodies, different shapes and sizes, we all just sat and talked together."
On the dialogue: "There's a great line where Harry (Ralph Fiennes) is on the train [and] sits down in front of this businessman. And the businessman says something to him like, 'Are you going to Bruges on business?' And Harry goes, 'If I wanted to talk to a c--t, I would have gone to the talk to a c--t shop.'"