Ryan Reynolds stars alongside Abigail Breslin in the upcoming movie Definitely Maybe. The film actually looks like a sweet, funny romantic comedy.
Here are highlights from an interview the actor gave to ComingSoon.net:
CS: There's definitely a balance you have to keep in a light romantic comedy. What are some pitfalls of the genre, things that would throw a romantic comedy out of whack?
Reynolds: I dunno, I don't feel this movie contains the conventions that typical romantic comedies do. It's more like a romantic whodunit. You don't look at the poster and go, "Oh, he ends up with her." You just don't.
That's the reason for me to do it. I don't know what the pitfalls are of a romantic comedy… a big musical montage about a girl trying 35 different dresses on, I dunno.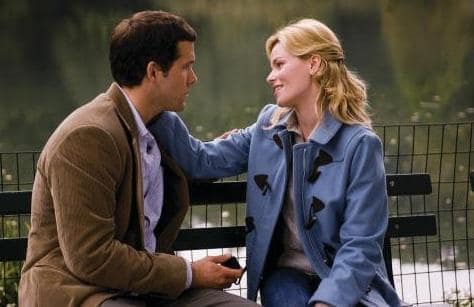 CS: Who are some of your comedic influences?
Reynolds: At a young age I was given a box set called "Just For Laughs" and I used to listen to it over and over and over again. It was all old Abbot and Costello routines and the Jack Benny stuff, the radio plays. "The World's Cheapest Man."
Read the full interview with Reynolds now.