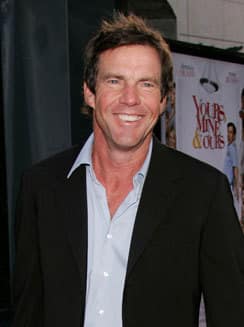 The G.I. Joe movie goes into production next week.
At last week's press conference for the film Vantage Point, Dennis Quaid talked about portraying Joe leader General Hawk:
"He's kind of a cross between Chuck Yeager, Sergeant Rock and maybe a naïve Hugh Hefner thrown in there," the actor joked. "General Hawk's aide-de-camp is a Victoria's Secret supermodel. I mean, how serious can it be?"
Quaid added that the story will be set "a little bit in the future. In a way, the Joes are like this international, sort of special forces type of group that mainly fight these terrorist groups that spring up. The movie is more like James Bond, with the group being SPECTRE -- there's this evil mastermind that's behind it."
G.I. Joe is slated for an August 2009 release.