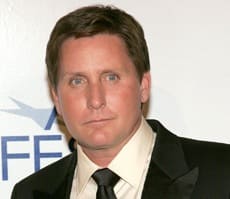 Emilio Estevez will need a library card for his next movie.
According to The Hollywood Reporter, Estevez is prepping The Public, a social drama set in a public library that he wrote and will direct as his follow-up to Bobby.
The story is loosely based on a Los Angeles Times op-ed piece written by Chip Ward, a retiring librarian in Salt Lake City, which discussed the epidemic issue of libraries becoming de facto shelters for the homeless and the mentally ill in light of many social program cuts.
Estevez was on the awards circuit with Bobby, a film that he said brought him "out of the wilderness," when he had a conversation with Harvey Weinstein, whose Weinstein Co. distributed that 2006 film with MGM.
"Harvey said, 'You have a voice and use it. And don't follow up 'Bobby' with something frivolous,' " Estevez said. "That stayed with me. And when I read this piece last April, I thought this could be it."