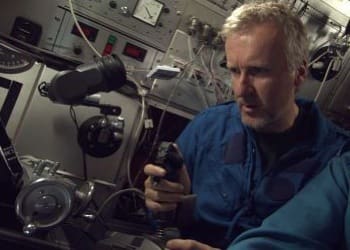 James Cameron gave
Ain't It Cool News
an
update
about his December 2009 3D sci-fi action-adventure
Avatar
.
The film stars Sam Worthington, Zoe Saldana, Sigourney Weaver, Michelle Rodriguez, Giovanni Ribisi, Joel David Moore, CCH Pounder, Peter Mensah, Laz Alonso, Wes Studi, Stephen Lang and Matt Gerald.
Here's an excerpt from Cameron's interview:
I'm in New Zealand right now, working on effects, while Steve Quale shoots some second unit. We've worked together a lot (he did the engine room scenes on Titanic, plus co-directed Aliens of the Deep with me) and he's the only guy I trust to shoot stuff for me, especially in 3D.
We still have a little performance capture work to do with Sam Worthington and Zoe Saldana in March, when we get her back from Star Trek (she's Uhura -- but of course you already knew that.) And we have a couple of days with Stephen Lang in April or May, to shoot his character's last scene, which is so technically difficult it will take us until then to figure out how to do it.
Avatar is scheduled for a May 22, 2009 release.