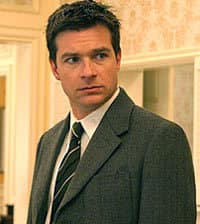 In 2008, Jason Bateman stars Judd Apatow's
Forgetting Sarah Marshall
and in Will Smith's
Hancock
.
But we don't care about that.
We just wanna hear more from this actor about the possibility of an Arrested Development movie. What's the latest?
"Well, the ball has started rolling down the hill again," Bateman told MTV. "So hopefully, all the adults can get the business stuff together - because all the creatives are on board."
The hilarious actor was also asked about the movie's tone: would be more structured (like Season 1) or random insanity (like Season 3):
"I don't know," he shrugged. "I learned a long time ago not to try to guess what [series creator] Mitch Hurwitz will come up with. But it'll be good, whatever it is."
That's for certain.