This summer, fans of Judd Apatow (and laughing, in general) can look forward to Forgetting Sarah Marshall.
One part of the movie people may find more disturbing than funny, however? The Jason Segal nude scene.
At the recent WonderCon 2008 convention, the film's star discussed his full frontal scene:
"I had a little bit of whiskey and I tried to get the room as warm as possible because there were 300 people there. That was about it. I tried to focus on good things," said Segal, as the audience burst into laughter. "OK. Look. If we're going to do this, let's do it.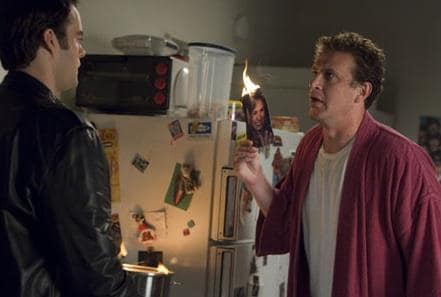 A scene from Forgetting Sarah Marshall.
You have this short window of when you can shoot the scene and you don't want to go out and look like you've been in a freezing cold room. But you also don't want to go out like you're ready to go. You know what I'm saying? So there's a fine line of the proper amount of… five minutes, that's all I need."
Couldn't Segal have just worn a sock for the scene, though?
"But to find a sock that big is not easy," the actor joked.