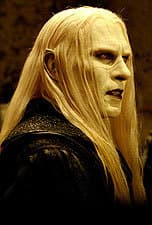 In
Hellboy II: The Golden Army
, Luke Goss plays the role of Prince Nuada, the movie's main antagonist. He recently talked with
Super Hero Hype
about the part:
Can you give us some background on your character?
Luke Goss: Yeah, this is one I have to think about without spoiling the plot. His father is the king of the Unseen Realm, as much as he's the Elf King, he's still the king of the Unseen Realm, and as his son and heir, I'm potentially the future king of that realm.
My father has some ideas that I don't particularly believe in, and the great thing about Guillermo's idea of a good guy/bad guy is that I think you get a lot of that stuff for free, you get a lot of the situation takes care of who's the good guy and who's the bad guy. When you got a great actor like Ron Perlman playing Hellboy, then they already know what's going on, they know who the good guy is.
You got a father-son issue here again--without going into detail--that just gives it a great three-dimension to the story. Like everything Guillermo does, he's not afraid to bring in sentiment and pain and family and issues to a genre media.
I love it because all the purists out there that kind of poo-poo the genre movies have to get over it, because Guillermo is directing the movie, which is great, and I'm lucky to be a part of it.
Read the full interview with Goss now.