The Other Boleyn Girl comes out on February 29. In the meantime, the movie's two, young, beautiful leading ladies are popping up everywhere, doing publicity for the film.
Below are excerpts of an interview Natalie Portman and Scarlett Johansson gave to Comingsoon.net:
ComingSoon.net: Was there ever a choice about which one of you would play which Boleyn girl and what was the order of the casting?
Natalie Portman: I read the script and loved it and came on as Anne, and I was like, "I will only do it if Scarlett does it," because I have just loved her for so long, since we were kids. She's so true always and so good, and you just never get the chance to work with someone your own age that you so admire. This was such a great, great chance (to do that).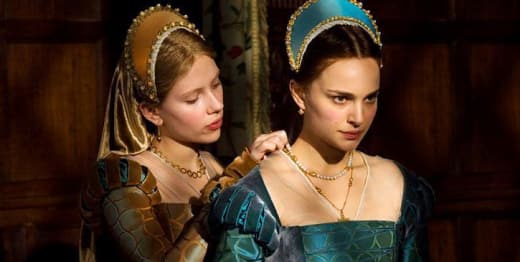 CS: Do you think anyone under 20 really knows who Anne Boleyn is or knows this story?
Scarlett Johansson: I remember passing very briefly through this period of time in my own World History class, just because it was so vast. I remember us having World History I, World History II, and learning all of this in a period of two years, and that's before you hit U.S. History.
Unless you're studying it or majoring in European History or particularly interested in these monarchies, I think that it's not something that known as much to Americans. I remember learning, "Divorced, beheaded, died. Divorced, beheaded, survived." That's what I learned about Henry VIII, but it was never really fully explained. We knew the rough edges of the history. So it's interesting. Hopefully the fact that Natalie and I are both involved with the project will maybe entice the younger generation and maybe spark their interest in the subject, because it is a fascinating time in history.
They say history repeats itself, so we'll see how that works out over time. A major part of why I joined the project was because Natalie was involved and was set to play Anne, and I was a huge fan of Natalie's for a long time. I always loved her choices and performances. And I'd never had the opportunity to work on such an even playing field with a peer, being able to play siblings. It was a great opportunity for both of us.
Read the full interview now.