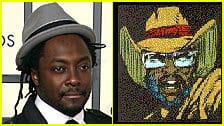 Another day, another big name added to the cast of
X-men Origins: Wolverine
.
Hip-hop producer/rapper Will.i.am is set to play Kestrel/John Wraith in the new film.
Kestrel was part of Team X along with Wolverine, Sabretooth, Maverick, Mastodon, and Silver Fox. This character is a powerful teleporter whose alter ego is named John Wraith. Similar to the other members of Team X, Kestrel was given an artificial age suppressant; he's likely much older than he looks.
What do you think of Will.i.am playing an X-Men? Is it a good casting choice?