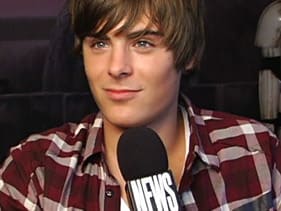 Zac Efron is excited to be the age of seventeen again in the movie
17 Again
.
In the film, which co-stars Matthew Perry, Efron plays a middle-age man suddenly transported back to his teenage years.
"Everything you do, you have to kind of view it from your dad's perspective," Efron said to MTV, revealing how he got in the head of an adult for the role. "I tried to do a few things that I learned from my dad �" things that he thinks are cool but are really dorky.
"That seems to be working pretty well," he laughed.
Portraying the young Mike O'Donnell �" who gets his wish for a chance to go back to high school and redo his life �" is the perfect way for Efron to transition from tween heartthrob to adult thesp in flicks such as Me and Orson Welles.
This is especially true given that the character offers him a shot at growing up without the side-effects of actually growing up.
"I could have gone out and just played a kid somewhere and had a blast. But now I'm playing a 40-year-old guy," he said. "It's kind of fun playing an adult."