21 counted as more than just blackjack this weekend. The drama, starring Kevin Spacey and Kate Bosworth topped the weekend box office with $23 million.
For Spacey and Bosworth, who have costarred in three movies together in less than four years, 21 is their second-biggest debut after Superman Returns.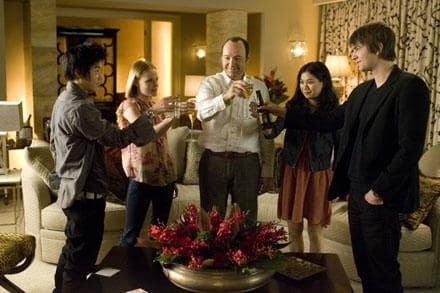 In other movie news:
• Stop-Loss (eighth place, $4.5 million) joins In the Valley of Elah, Redacted, Rendition, Home of the Brave and others in pile of war movie rejected by audiences.
• Superhero Movie (third place, $9.5 million) suffered through the weakest opening of all the awful Epic/Scary/Date spoof comedies of recent years.
• Dr. Seuss' Horton Hears a Who! (second place, $17.4 million; $117.3 million overall) gave Hollywood its first $100 million hit of the year.
• After a solid debut, Tyler Perry's Meet the Browns (fourth place, $7.8 million; $32.8 million overall) pulled a Cloverfield and saw ticket sales plunge 61 percent.
• Vantage Point ($2.4 million, $69.4 million) ends its Top 10 run after a solid five-week stay.