IGN recently spoke to Scott Patterson, who enjoyed a notable role in last fall's Saw IV as Strahm, the FBI agent who finds himself trapped in a difficult situation as the film ends.
Patterson will be reprising that role in Saw V, although he revealed that he hadn't seen a script yet. Production on the latest installment in this franchise begins March 17, but the actor noted that producers are always "very secretive" about plot details.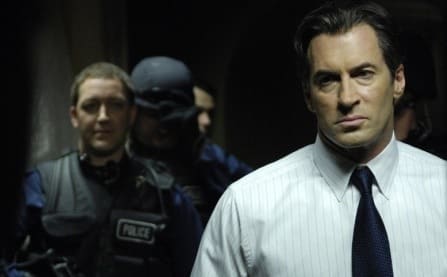 Scott Patterson (front) in a scene from Saw IV.
When it comes to receiving hints on what's next in the extremely interconnected series, the actors are given some information but, "They don't give you much," Patterson said. "And we're not really permitted to talk about it. The level of secrecy… I signed all these forms. They could take away my house if I mentioned a storyline."
We don't wanna see that happen.
The actor is actually signed for the series through Saw VI, though he emphasized: "Well, they can kill off any character at any time â€" as you've seen. I'll be doing V and I'm signed for VI â€" but that doesn't mean I'll actually be in it or do it. It's their option."