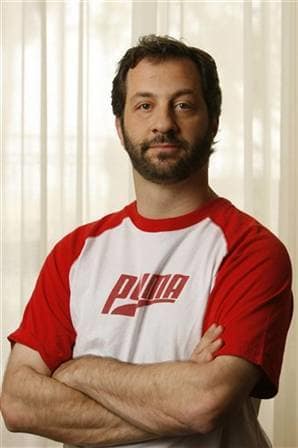 Fans of
Knocked Up
and Superbad are in for a trio of treats over the next few months: writer/director Judd Apatow has three movies coming out.
He recently spoke to ComingSoon.net about them all:
CS: Tell me a little bit about "Drillbit Taylor" and the cast.
Apatow: "Drillbit Taylor" is a hilarious movie that Seth Rogen wrote with Kris Brown. They both wrote for this TV show we did called "Undeclared" and Seth obviously wrote "Superbad" and also "Pineapple Express." It's about these kids that are being bullied and they hire a bodyguard who they think is an Army Ranger. It really turns out that he is just a homeless guy who is planning on stealing and robbing their parents' houses.
The original idea came from John Hughes who wrote a treatment of the movie but he never got around to writing it. So when Paramount said, "Hey, guys you want to write this idea that John Hughes never got around to doing?" We said "sure. We'll take a pop at it."
CS: Moving on to the film "Forgetting Sarah Marshall," what was it like working on that set?
Apatow: "Forgetting Sarah Marshall" was a movie written by Jason Segel who was one of the stars on "Knocked Up" and "Freaks and Geeks." It's about a guy whose girlfriend dumps him. He goes to Hawaii to get over it and she happens to be at the same resort with her new rock star boyfriend.
The rock star is played by Russell Brand, who is a very famous comedian in England. His girlfriend is played by Kristen Bell from "Heroes." He starts falling for a woman who works at the hotel played by Mila Kunis. Jason Segel really came through and wrote this hysterical script. He's always been the kind of comedy actor that I thought is really fun to watch get beat up on. We call it a romantic disaster movie.
Jonah Hill is in it and Paul Rudd and Jack McBrayer from "30 Rock" so it's filmed with tons of really funny people. It's a charming sweet movie.
CS: Tell me about another film you have in the works called "Pineapple Express?"
Apatow: "Pineapple Express" is an idea I had about ten years ago. I thought it would be funny to make a pot-action movie. Like, what if you made a stoner movie like a "Cheech and Chong" movie with action like a Jerry Bruckheimer movie?
Seth Rogen and Evan Goldberg wrote the script - the same people who wrote "Superbad." Seth stars in it with James Franco. It was directed by David Gordon Green who is a great director - way too good to do our movie. It came out great. It's like "Superbad" with an enormous amount of violence. (Laughter) I know that's a good formula for fun.
Read the complete interview now.