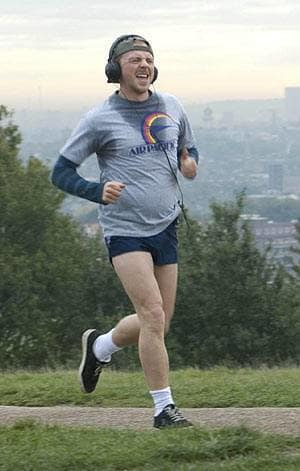 Michael Ian Black, the comedian that was made famous by MTV's
The State
, wrote the initial script for
Run Fat Boy Run
.  Initially, Black planned on directing the movie himself.
However, Black sold the the script and it found its way to Simon Pegg, who rewrote the script, and director David Schwimmer.
With Run Fat Boy Run coming out this week, Movieweb had the chance to sit down with the original script writer in an interview.  Here's a small excerpt:
Did you willingly give this script up to Schwimmer and Pegg? I know Pegg came in and did some rewrites.
Michael Ian Black: My intent was to either direct it or to sell it for a lot of money. And I did neither. It was not an easy thing to give up. There were many times along the way were I regretted giving it up. I was very nervous about reading Simon's rewrite when he did rewrite it. Because it was set in London, and I didn't know what he would keep and what he would get rid of. But then I was delighted when I read it. I thought he did a really great job. Story wise it is identical. He changed one character from Italian to Indian. And the relationship was different. In the original, the Italian guy had a much younger wife. Now, in this one, it is his daughter. He changed the ending a tiny bit, which I thought was for the better. He Anglo-sized it. For the most part, I thought he made it better.
So you never had any problems with him coming in and changing it up a bit?
Michael Ian Black: No. I think he is a great writer. I had no issues with him or his rewrite. I was happy that he got cast, and I was happy that he reworked it.
Did you have anything at all to do with it once it went into his hands?
Michael Ian Black: Not really. They invited me out to the set for a week. And I hung out. I saw some dingy parts of London. And I hung out with David Schwimmer a little bit. They treated me like a distant uncle that had come from across the pond to visit. And that is essentially what I was.
You can read the rest of the interview at Movieweb.