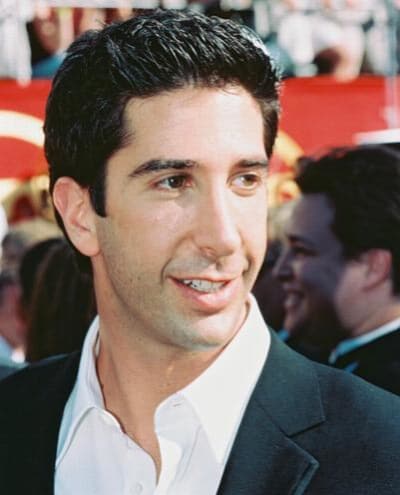 David Schwimmer recently took a one and a half year break from acting to get in the director's chair for
Run Fatboy Run
.
Run Fatboy Run stars Simon Pegg of Shaun of the Dead and Hot Fuzz fame. Run Fatboy Run is the story of a somewhat overweight man trying to win back his ex-wife he dumped when she was pregnant.
MTV recently had David Schwimmer answer a bunch of fan questions in a two part series. Here's some of the questions and answers from part one.
SARA Asks:
I love Simon Pegg so I'm excited to see him in the lead for this. How did you think of him? Did you ever consider acting in it yourself?
DAVID Says:
I love Simon, too. He's brilliant. We worked together in a few things and have been friends for a while, so he was my first choice. And no, I really didn't think about acting in it â€" I just wanted to focus all my energy on one thing: directing.
ANNA Asks:
What's more challenging: directing or acting? And what's more rewarding of the two?
DAVID Says:
Actually, I have to say I love both equally, and find both of them rewarding. I just finished a movie called "Nothing But the Truth" playing Kate Beckinsale's husband, and had a great time. I kind of needed to get back to acting, after spending a year and a half directing the movie.
TODD Asks:
In the commercials for "Run, Fat Boy, Run" I noticed that your name is never mentioned. Are you intentionally staying low-profile in the promotion for this film like Ben Affleck did for "Gone Baby Gone"?
DAVID Says:
No, I'm pretty out there publicizing the movie. I'm really proud of it â€" it's just i find it comes across a bit pretentious sometimes when ads or commercials have "a film by such and such." It always seems to me, when i'm watching the trailer or ad, that it's a big ego stroke.
I'm not into it.
You can read the rest of the questions and answers at MTV's Movies Blog.