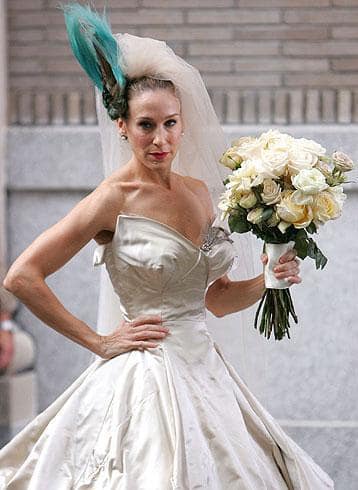 As soon as the trailer for
Sex and the City: The Movie
was released, fans hit the message boards with questions.
Were Carrie and Big getting married? What's going on with Charlotte and a baby? How much sex would Samantha be having?
Regarding the preview Sarah Jessica Parker said the spot aimed to tell some of the story without giving away too much.
"We also knew that people would make decisions about what that trailer meant and what those words meant and who knows what order we put it in and why," the actress added. "I think in large part we did it because photographs had already [leaked] out and so people were telling us the movie that we were making â€" which was wonderful, but no one has yet told us actually the story that we're telling. So it's all out there in the trailer, but it's not really the story."
Does that mean that there were fake-outs in the trailer? Were fans duped?
"Um, yeah, there are fake-outs. I mean, not like a bait-and-switch â€" people aren't going to come to the theater and feel hoodwinked or taken advantage of. We just had to be careful because it's a movie with an ending that we wanted to keep protected.
So we had to be a little clever and a little stealth with the trailer, but we also had to give people a trailer. It's not enough to just give you the images and music â€" I would be perfectly fine with that, but apparently that's not acceptable!"