No sooner do we update our Sex and the City Movie home page than the cast spills a few secrets about the hugely-hyped movie.
"Something major happens that fundamentally changes who Carrie is," Sarah Jessica Parker told LOGO's NewNowNext.
Moreover, the film "doesn't pick up right where the series ended," Parker adds. "It's a few years later... it's so packed with stuff."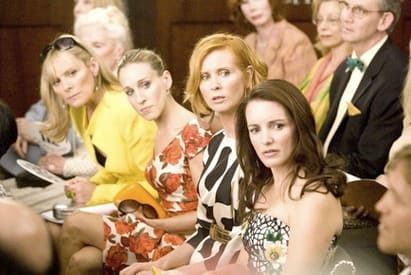 What about Cynthia Nixon and her character, Miranda Hobbes? According to the actress, she "is still in Brooklyn, is still unhappy about it, and still advancing at her job, in her firm."
Baby Brady?
"Her son is thriving, but her marriage is kind of mmm â€" not doing so great," Nixon says. "We are dealing with unfaithfulness, but even more than unfaithfulness, I think we are dealing with the daily grind that can take its toll on a relationship."
Meanwhile Charlotte York Goldenblatt is "struggling to be a good mother," Kristin Davis says. "She has her adopted daughter, and she's an overachiever."
As for which character has the most sex, Kim Cattrall has a one word answer: "Guess!"
Ummm... Stanford?