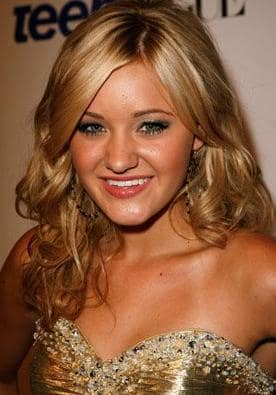 AJ Michalka, who appears in the Peter Jackson remake of
The Lovely Bones
, says viewers ought to brace themselves for a beautiful slice of heaven.
"I think it's going to be stunning," Michalka said of Jackson's vision for heaven, a major set-piece in a film whose narrator resides there. "There's going to be this beautiful gazebo involved, I know that. He's doing a lot of stuff with blue screen, which if going to be insane, unbelievable. It's going to be her own little world in heaven."
And the character occupying it will be Susie Salmon (portrayed by Oscar nominee Saoirse Ronan), a 14-year-old who watches her family and friends from the afterlife, observing them as they struggle to cope with her brutal rape and murder.
AJ plays Clarissa in the film, Susie's best friend. She had nothing but praise for another costar, too: Mark Whalberg.
"He's incredible," Michalka said."We all did our own and after every take he was like, 'Are you okay? Are you okay?' He was super cool, super nice. It was great."