Marcel Langenegger is behind the camera for Deception, a sex thriller starring Hugh Jackman and Ewan McGregor and opening this weekend.
He recently spoke to MovieWeb about the project. Here are a few highlights from the interview:
Q: How accurately does the title Deception depict what is going on in this movie? Or does the title describe the film's relationship with the audience?
Marcel Langenegger: It is both. The whole thing is a con film, especially in the set up. So nothing is as it seems. It actually happens in both directions. As you know, Hugh Jackman plays the bad guy and Ewan McGregor plays the good guy. At one point the role switches. It is a very balanced back and forth.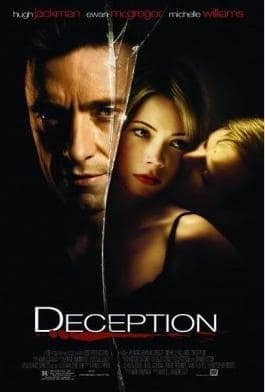 Q: And at the same time, you are deceiving the audience as well?

Marcel Langenegger: Yes. A little bit. There comes a point in the movie where things don't make any sense. You don't know who actually exists, or if this is a fantasy. There is always the possibility that the things you see happening on screen could be a dream. But they are probably real. You, as an audience member, may start asking yourself those questions. At one point, the logic is completely lost. But at the end, it all starts to make sense again. This is how it goes.
Read the full interview with the director now.