The Forbidden Kingdom is officially a hit. It was number-one at the box office last weekend.
In the wake of its success, star Jackie Chan spoke to Movies Online about the movie. Here are excerpts from that interview:
Q: I know you can be very critical of your own work. So are you pleased with the way this has turned out? Is it as you imagined it?
Jackie Chan: I don't know. Every time I make an American film I just trust the American director and American writer. Myself, I would never make this kind of film. For me, those kinds of films are ridiculous. They don't make sense. (Laughs.) Ha, ha, ha. But an American audience is more interested in this kind of movie.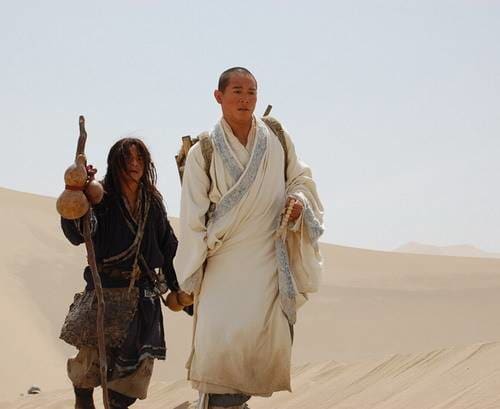 Q: I'm surprised, because it feels like you with the drunken fist scene and stuff. Which part did you think didn't make sense?
Jackie Chan: No, the whole thing. (Laughs.) Why Drunken Master? Monkey King? All kinds of things, but at the end, it's the children, there is a young boy in New York who, just like the writer, loves Chinese culture. It's a fantasy like a fairy tale. It's OK.
Otherwise, I won't make this movie, because I know that American people like it. American audiences like it. The Asian audiences like it. So, that's why Jet and I agreed to make this movie. Now, I hear so many good things about this movie and everybody talks about it, but I still worry. Just like 'Rush Hour 1.'
After I finished 'Rush Hour 1' I said, 'My career is finished. A second time I try to get in the American market and now I'm finished.' I go back to Asia and that's all. Then 'Boom!' big hit. This is ridiculous. Why, why, do people like these kinds of things? Then 'Rush Hour 2,' da da da da da da. So, now, whenever an American writer or director comes and presents a script, nobody is against it, for American market, yeah.