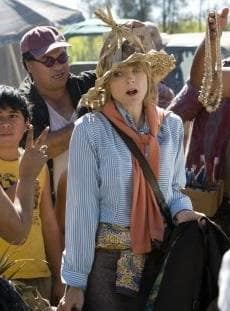 Nim's Island
marks a different sort of role for Jodie Foster. The actress gets to show off her comedic and adventurous side on film for a change.
Below, she talks to ComingSoon.net about the movie...
ComingSoon.net: Can you talk about what drew you to this project?
Jodie Foster: I've been wanting to do a comedy for a long time actually. "Maverick" was such a great experience. I really, really enjoyed it. Lightness is a part of your life too. You're not all just darkness. There's lightness too. But then I couldn't find anything that was good enough.
I read this script and kept banging down doors and lobbying for it and definitely the first studio they were at, they had a different arrangement with the studio at that time and they were not keen on me at all, understandably. They know me for my dark dramas.
CS: Did you feel silly at all while you were doing some of the stuff in this movie?
Foster: Yeah, but I think that silly is good. You're looking for that. What's interesting to me in this movie is that I find myself talking about things like fear and this sort of solitary world that she's created, finding a hero in yourself. Those are all themes that I've played in dramas many, many times �" very dark dramas.
Here I am doing a comedy about them, which is kind of like making fun of your most precious thing. You're making fun of the parts of yourself that are the little fragile parts of you. You have to have an ability in order to be a comedy actor.
Read the full interview with Foster now.