Kristen Bell recently talked to Movies Online about her upcoming comedy, Forgetting Sarah Marshall.
Here are excerpts from the interview: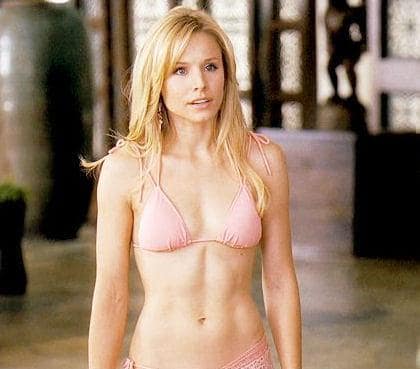 MoviesOnline
: Did you have to learn to surf for this movie and did you save any of that cool beach wardrobe for yourself?

Kristen Bell
: I didn't have surfing lessons. Mila had Japanese lessons. I had horseback riding lessons and Russell and Jason had surfing lessons. But during my horseback riding lessons, and I rode as a kid, I had 8 sessions or whatever it was to get me comfortable on the horses so we could do it, and that scene has actually been cut from the movie but it'll be on the DVD.
In two sessions I was remembering all the stuff that I grew up with so she was like "Well we can just mess around" and there were beautiful trails and we were right on the beach and she let me go swimming with my horse, Baba, into the ocean.
MoviesOnline: Baba?
Kristen Bell: Baba. I'm sure you've heard about him. He's the greatest horse in Hawaii. We went into the water because Baba loves to swim and so we'd go up to my waist and he's completely submerged with just his head sticking up and he'll start to paddle around. It is a divine experience.
Read the full interview now.