Matthew Fox recently spoke with Movies Online about his role in Speed Racer. The Lost star will portray Racer X.
Here's an excerpt from the interview:
What attracted you to this project?
Matthew Fox: The Wachowski brothers. That was the first way into the project was meeting them and hearing their thoughts on what they wanted to try to accomplish in the movie, and one of the first things that they said was that they wanted to make a movie that their nieces and nephews could see, and they had never really done anything like that.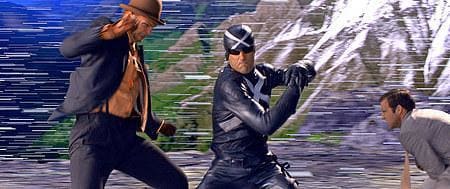 They wanted to make a family movie and that really hit a chord with me. I have kids and I haven't done anything that I would feel comfortable for them to really watch. And then, you know, I went and did some research on the original source material, and I had definitely seen those images. I recognized them.
They were familiar to me but I don't think I'd ever really seen an episode, so I went out and got a bunch of those and watched a bunch of episodes and got a feel for what made that series in the 1960's so catchy, and then the script.
Larry and Andy wrote a script that I thought was just absolutely amazing, just all those elements. It was really the only project that I wanted to be in. I was looking at a few things last spring, but the minute I met with Larry and Andy and started going down the Racer X route, and Speed Racer, I didn't want to do anything else. And I pretty much said, "If I don't get this role, I'm not going to work this hiatus."