The good people at ComingSoon.net went on the set of Get Smart recently.
They spoke to stars Steve Carell and Dwayne Johnson. Check out the full article now, and read below to get these actors' takes on the project...
Carell talked about the honor of being offered such an iconic role:
"When Warner Bros. initially called me in, I thought I was coming in to audition. I heard that Will (Ferrell) had been attached. For some reason or another, he was no longer attached and that they were looking for somebody else," he said.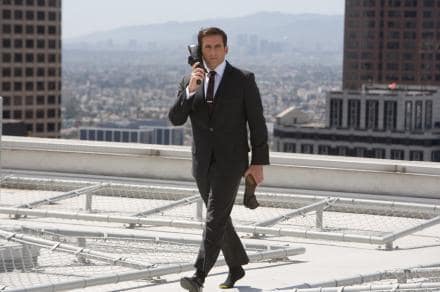 "They just came out and said, 'We'd like you to play Maxwell Smart.' And it was one of those moments I could not believe, it was one of those quintessential life career moments that was like, 'What the hell is happening? How did this come to pass?' So I've been pinching myself ever since then. It's great and it's been ever since then," Carell added.
Both he and Johnson, the former WWE star known as The Rock, were long time fans of the original series.
"I was a big fan, absolutely," Johnson said. "I like any type of comedy that is physical, self-deprecating comedy. I love that because I think, if you are really trying to be cool, then it's hard to be funny, like really funny.
The way Don Adams played that, very self-deprecating, giving himself up for the joke, I love that. And the gadgets were pretty cool too, which you see in this movie, updated ones, too."