Here's your first look at Rachel Nichols as Scarlett in the new G.I. Joe: The Movie. Thanks to JoBlo.com for the exclusive.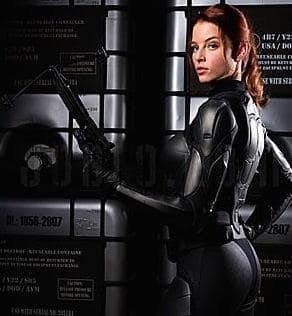 According to Wiki: "The official line on Scarlett is that her full name is Shana M. O'Hara. Although she is as adept with standard weapons as any of her comrades, her weapon of choice is the crossbow which fires various bolts with specialized functions. Her rank is Master Sergeant, and she serves from time to time as team leader.
Her primary specialty for the team is counter intelligence and is additionally skilled in martial arts and acrobatics. Of note, her secondary military specialty remains classified in all of her file cards."
G.I. Joe: The Movie opens in the summer of 2009.