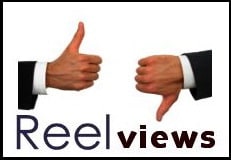 Harold & Kumar Escape from Guantanamo Bay
comes out on April 25.
Considering the DVD success of Harold and Kumer's first adventure (something about trying to find a fast food joint), we can pretty much pencil in the follow-up at the top of next weekend's box office. Maybe even the movie of the year.
But what do critics make of it? We them for a movie review or two...
- A prison sex slave rebellion having to do with an organ sandwich, don't ask, and a detour over to Bush's secret sex den, make this ballsy doper duo and their Blue State versus Red State rant hard to resist. -- NewsBlaze
- In its own wacky way, Harold & Kumar Escape From Guantanamo Bay is one of the ballsiest comedies to come out of Hollywood in a long time. No kidding. -- Variety
- The HIGHly-anticipated sequel to 2004's Harold and Kumar Go to White Castle comes just how you'd expect it: raunchy, wild, disgusting and completely absurd. -- Cinematical
- Like most comedy sequels, it is not as funny as its predecessor -- but, like most comedy sequels, that won't matter too much if you get stoned before you watch it. -- Eric D. Snider