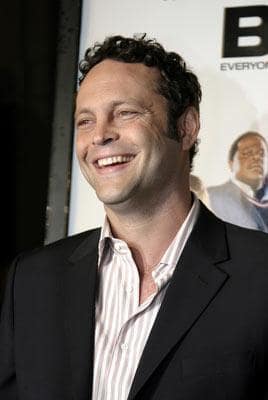 After our first two installments of Reel Movie Stars covered
Will Ferrell
and
Luke Wilson
, we'd like to focus on the third founding father of Lambda Epsilon Omega, Vince Vaughn. At 6'5, Vaughn is the tallest member of the Frat Pack and one of our favorite. He's definitely a Reel Movie Star.
Vince Vaughn has recently come to super stardom for his roles in the Frat Pack comedies Old School, Anchorman, Wedding Crashers, Starsky & Hutch, and Dodgeball, but Vaughn has been a movie star since his breakthrough in the 1996 independent film, Swingers.
Afterwards, his career started off with roles in more serious movies such as The Lost World, Pyscho, Return to Paradise, The Cell, and Domestic Disturbance, but has since move more to comedies. However, thanks to the Frat Pack, Vaughn has established himself as a comedic genius.
Some other fun facts about Vaughn?
Wedding Crashers does not lie, he is a phenomenal dancer and loves it
First job was as a telemarketer. We're sorry if we hung up on you, Vince.
Before his Swingers fame, did an After School Special on steroids
Dated two The Break-Up co-stars: Joey Lauren Adams and Jennifer Aniston
While filming Domestic Disturbance, was banned from Wilmington, N.C. bars after a bar brawl in 2001
Haven't had enough Vaughn yet? How could you? Be sure and read our complete Vince Vaughn bio, check out our collection of Vince Vaughn quotes, and enjoy the photo montage.