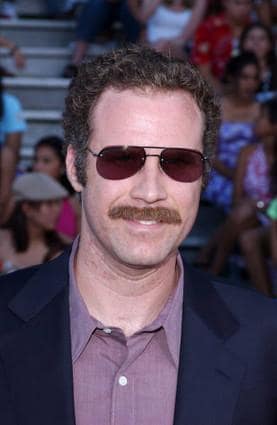 Starting today, we'd like to introduce a new feature to our site, Reel Movie Stars. During Reel Movie Stars, we will highlight a different star and bring you quotes, pictures, fun facts, and incredibly complete filmographies. We decided we would launch this feature with one of the biggest stars in movies today, Will Ferrell.
Now almost everyone knows Will Ferrell thanks to his box office successes and his incredible tenure on Saturday Night Live, where he became the highest paid cast member ever in 2001. Now what you may not know is that Ferrell was the kicker for his high school varsity football team or that he originally wanted to be a sports broadcaster and graduated from The University of Southern California with a degree in Sports Information.
Need more cool Will Ferrell facts to impress your friends? We have more for you after the jump!
Ferrell ran the Boston Marathon in 2003 and the New York City Marathan in 2001 with his wife. And you know that weird scar you see on Ferrell's stomach during his frequent topless scenes? Ferrell has had that scar since he was a baby when he had surgery to treat pyloric stenosis, a condition that causes frequent vomitting.
How well do you know Will Ferrell's film career? Sure you've seen Anchorman a million times, but did you know Ferrell made his film debut in 1995 in an uncredited role in Criminal Hearts? Can you name the three movies based off Saturday Night Live skits he's been in? (Hint, the answers are A Night at the Roxbury, Superstar, and The Ladies Man).
Haven't had your Will Ferrell fix yet? We hope not! We've updated Ferrell's star page with over 18 movies complete with classic Will Ferrell quotes. We even have a beautiful Ferrell photo montage to leave you on.