Terrence Howard recently spoke to IGN and seems to have stumbled into comments regarding the future of his character that hint at an Iron Man sequel.
In the upcoming film, Howard's character of Jim Rhodes looks at Tony Stark's spare Iron Man suit and says to himself: "Next time baby."
Here's what the actor had to say about the line:
"The beautiful thing about Marvel is that they've always stuck with the tradition of staying truthful to the comics and loyal to the fans.  If you've read the comics you'll know that that is the next phase, but there is another intermediate phase in there where he would have to put on his best friend's suit for a period of time."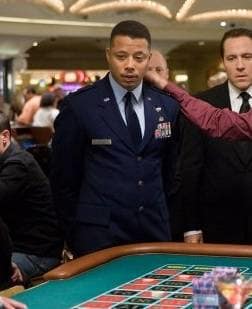 What does this mean?
Fans of the comics know that, due to Tony Stark's alcoholism, Rhodes is eventually forced to don the armor and become Iron Man in place of his pal. He soon begins to get headaches and his behavior becomes more erratic, leading to an all-out rampage.
Stark is then forced to build himself another suit to stop his friend. Might this be a ossible plot for Iron Man 2? Discuss!