British actor Scott Adkins landed a bit role as "Weapon 11" in the spin-off X-Men Origins: Wolverine.
Reportedly, the character will be featured in an fighting sequence with Wolverine near the end of the film. Anyone care to wager with us on who will win that battle?
In other casting news, Daniel Henney (pictured) told The Daily News that he's landed the role of "Agent Zero" in the movie, which will mark his American feature film debut.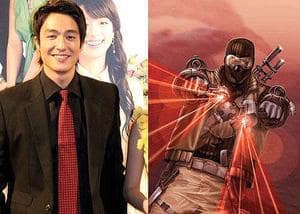 "We sat down and she explained the basic premise of the film to me. I had no idea at this point that the director, producers, including Hugh Jackman, and executives at Fox had already made a decision on me," Henney said of meeting with Fox's head of casting about the project. "They had somehow seen some of my past films and thought I'd be right for the role."
"I then rushed back to my hotel, tore through the script, made a few phone calls to rearrange my schedule and called them back and happily accepted the role," the actor added.
X-Men Origins: Wolverine is slated for a May 1, 2009 release.