What happens in Vegas?
That's sort of the question asked of Ashton Kutcher regarding his new movie, aptly titled What Happens in Vegas. Below, he speaks with MoviesOnline.ca about the project...
MoviesOnline: How was it working with Cameron Diaz?
Ashton Kutcher: Horrible. I mean, to show up to work and have to look at a good looking woman who's funny and happy to be alive and joyous and nice to people, that's a nightmare. We had to deal with it every single day. You know, I don't think that there's anybody like her.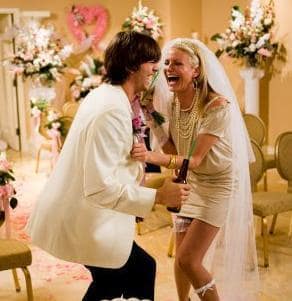 I think she's maybe the only, I would say, true comedic leading lady in our business right now that has really honed that craft. And she's worked with Jim Carrey, she's worked with Adam Sandler, she's worked with Mike Myers. She's worked with every great comedic actor I can think of, so she's got a one up on all of us.
MoviesOnline: What was your preparation for the drunken spiral?
Ashton Kutcher: I got drunk and spiraled. I've had my entire '20s, my early '20s to really prepare for that scene. I have a lot of life experience to draw on for that kind of wild night.
Read the full interview with Kutcher now.