Who knew that a cop from Beverly Hills and a series of revived dinosaurs had so much in common?
Following news that Jurassic Park 4 was in the works - despite the less-than-well-received showing of that franchise's third installment - we've learned that a fourth Beverly Hills Cop movie is also planned.
Did anyone even see Beverly Hills Cop 3?
Reportedly, Eddie Murphy will reprise his role as Detroit detective Axel Foley in the rumored Beverly Hills Cop 4. With his career not exactly taking off (although he was nominated for an Oscar for Dreamgirls), the actor took the idea for another movie to Paramount.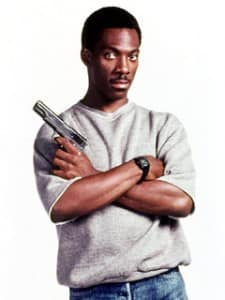 Do you wanna see Eddie Murphy return for Beverly Hills Cop 4?
The fourth Beverly Hills Cop film is set to start production some time next year for a summer 2010 release, with Brett Ratner in talks to direct.
The original Beverly Hills Cop, released in 1984, grossed $316 million worldwide. Together with the 1987 sequel and 1994 third installment, the trilogy grossed $712.9 million across the globe.