In the June 2008 issue of Details, Christian Bale comments - and celebrates, really - the work Heath Ledger. These two actors, of course, star together in the upcoming Batman film, The Dark Knight.
"He was incredibly intense in his performance but incredibly mellow and laid-back," Bale said. "Certainly there was this great anarchistic streak to it, just getting dirtier than anybody's envisioned the Joker before...
Naturally, (the movie) was something I wanted to share with him and expected to do so. And I can't do anything else but hope that it will be an absolutely appropriate celebration of his work."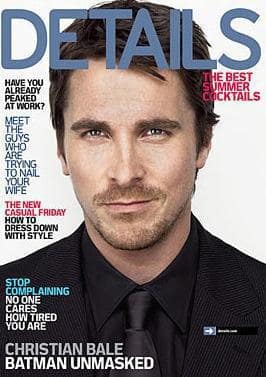 It was also recently announced that Bale will play the role of John Connor in three sequels to the Terminator franchise. We look forward to them.