Time to get excited, teenage readers:
Producer is underway for Hannah Montana: The Movie. The film, of course, will star Miley Cyrus in her first full-length feature feature, as it's being filmed around Nashville and Los Angeles.
Hannah Montana: The Movie is slated for a Spring 2009 release.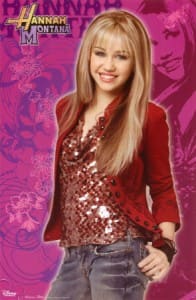 The film also features Hannah Montana series regulars Emily Osment (Spy Kids 2: Island of Lost Dreams), Jason Earles (National Treasure), Mitchel Musso (Secondhand Lions) and Moises Arias (Nacho Libre).
Also appearing in the movie? Melora Hardin ("The Office," 17 Again), Margo Martindale ("The Riches," Million Dollar Baby), Barry Bostwick ("Spin City"), Peter Gunn (Ever After) and Lucas Till (Walk the Line).
The film follows Miley Stewart as Hannah Montana's soaring popularity threatens to take over her life. With a little urging from her father, the teenager travels back to her hometown of Crowley Corners, Tennessee to rediscover what's really important.