The cast and crew of High School Musical 3: Senior Year recently spoke to ABC News about the most anticipated film aimed at teens, maybe ever.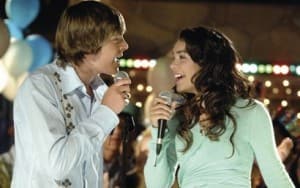 What, exactly, will the big screen version of this popular Disney franchise be about?
For starters, "we have a prom scene," Zac Efron (pictured) said, though he was sort of corrected by co-star Ashley Tisdale: "It's actually a play that we're putting on about a prom."
Interesting. While fans of the series may need to wait until October 24 to see what the plot is truly about, here's a rundown of spoilers we learned from this set visit:
There will be 14 musical numbers in all;
The movie marks the first time that best friends Troy and Chad will sing together;
Ryan and Sharpay will sing a song in the school's cafeteria;
The opening number for the movie will take place in the East High gym.
Shooting for High School Musical 3 wraps in late June. We'll have more secrets from the set as they come in.