Maybe you can't sleep with James Bond.
But you can smell like the woman who will!
Avon has introduced a signature fragrance called "Bond Girl 007." The face of the fragrance? Quantum of Solace star Gemma Arterton.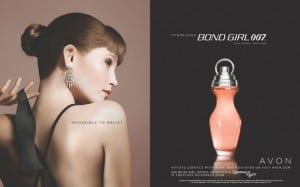 Here's a portion of the company's press release on the product:
Avon Products, Inc. today announced a collaboration with the James Bond entertainment franchise... to create a new signature Bond Girl 007 women's fragrance, bringing the confident allure of cinema's sexiest icons to Avon consumers worldwide. British actress Gemma Arterton, who plays the role of Agent Fields in the upcoming Bond film, will be the face of the new fragrance.
"I'm thrilled to be working with two such iconic and established brands," said Arterton. "The Bond Girl 007 fragrance embodies everything a Bond Girl represents - intelligence, sexiness and confidence."