For months, it was rumored that Samuel L. Jackson would appear in Iron Man as the comic character Nick Fury, an eye-patched agent of a secret government organization.
Well, now we know why the actor had been denying that he's in the movie: because he isn't.
But reports are coming in that Jackson does, indeed, make this highly-anticipated cameo... during the closing credits! Here's a fuzzy look at it now:
[youtube]http://www.youtube.com/watch?v=Jcj6Y-WWX14&eurl=http://www.themovieblog.com/[/youtube]
So when Iron Man fades to black this weekend, stay in your seat. Fury pops up on screen and many believe he'll be prominently involved in the film's sequel.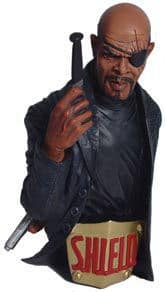 Samuel L. Jackson is likely to appear in a future Iron Man movie as the character of Nick Fury.