Jake Gyllenhaal and Gemma Arterton on Board for Prince of Persia: The Sands of Time
by Matt Richenthal at . Comments
Jake Gyllenhaal and Gemma Arterton will star in Prince of Persia: The Sands of Time, Walt Disney Pictures and Jerry Bruckheimer Films' adaptation of the popular video game.
In the fantasy adventure, Gyllenhaal will portray Dastan, a young prince in sixth century Persia who must join forces with Tamina (Arterton), a feisty and exotic princess. Together, they must prevent a villainous nobleman from possessing the Sands of Time, a gift from the gods that can reverse time and allow its possessor to rule the world.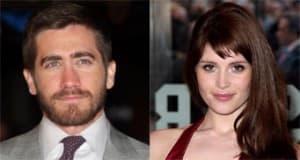 As The Hollywood Reporter states, Gyllenhaal will next appear in Brothers with Tobey Maguire.
British actress Arterton is relatively new on the film scene, but is already generating heat for her work in Guy Ritchie's upcoming RocknRolla and the new James Bond movie, Quantum of Solace.