Jay Roach is a producer/director with a pair of comedic aces up your sleeve: Austin Powers 4 and Little Fockers. Will these follow-up films be made?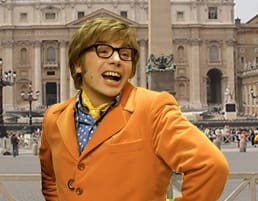 "I know [Mike Myers is] thinking about it," Roach said when asked about a new Austin Powers movie. "Which is something of a move in a direction."
As for rumors that Gisele Bundchen might end up in the film? Roach has a message for fans: slow down.
"There isn't a script like that or anything yet," Roach cautioned. "But it's something, that [is still alive]... he's got other stuff to do too, and that one's completely driven by Mike. If he wants to do it, I'll definitely want to be involved. But I don't know yet when that's gonna happen."
A similar theme accompanies a sequel to Meet the Fockers.
"The way we go after these is when we have a story that can make it earn itself back," Roach told MTV. "Sequels shouldn't always be automatic; there's a certain amount of pressure if something works, to have it work twice. But that doesn't always mean it will work three times."
As for the film, which would reportedly focus on parenthood and be called Little Fockers, the director continued:
"We're just trying to find the right story that makes it worth doing again. We always talk about ideas for it, and it would be a great group of people to get back together, for sure."