Josh Brolin and Elizabeth Banks grace the cover of the most recent Entertainment Weekly. But you'd be forgiven if you looked at the issue and thought the First Couple was actually featured in it.
Indeed, the two actors starred in Oliver Stone's movie about President George W. Bush, W, look eerily like their real-life counterparts.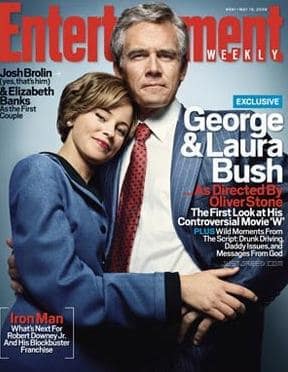 The biopic will chronicle the life and presidency of the words President of the United States in this country's history. Bush is reportedly portrayed in the film as a foul-mouthed, reformed drunk obsessed with baseball, Saddam Hussein and the conflicted relationship with his dad.
Here's the rest of the cast:
Thandie Newton as Secretary of State Condoleezza Rice;
Ioan Gruffudd as Tony Blair;
Rob Corddry as Ari Fleischer;
James Cromwell as George Herbert Walker Bush;
Ellen Burstyn as Barbara Bush;
Jeffrey Wright as General Colin Powell.