As the actress rumored to have held up a Sex and the City movie, Kim Cattrall makes for an interesting interview. She recently sat down with Entertainment Weekly to discuss the film:
How did it feel to go back to Samantha?
Really, really exciting. The first day of shooting was beyond anything that I had ever witnessed. A girlfriend came to visit me on the set and she nudged me and said, ''You guys are the Beatles!'' On both sides of the street, in the middle partition of Park Avenue where we were filming, it was standing room only. All the plants were being crushed, people were yelling our names, our characters' names, Pat Field's name...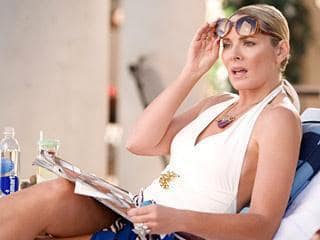 It was like they were in on something that they thought had passed and that they would only dream about or watch on DVD, and now they were part of it as well. It was really exciting. Getting back into shape with those high heels â€" that was the only not-fun part about it. At night, the goddamn balls of my feet were throbbing.
When the movie fell apart the first time around, all of the finger-pointing turned your way. How did that feel?
Well, it's devastating, because it was not true. What am I gonna say? I tried to give the story and my side of it. My separation from my husband, and then my divorce, was all over the headlines here in New York and in the gossip columns. That was just really hurtful. People in my family I hadn't even told, and because I wasn't here or there with my husband, people starting putting things together. I kind of really needed to get away.
It's unfortunate, but again, I feel that the best thing that has happened is the growing and maturing of not just the film but of the actors and the director. I think that the timing was ultimately right. It happened when it should have happened, and I'm just glad that it did.
Because to have such an amazing experience and then for it to end up in a way that was totally unfair left a little bit of a sadness with me.
But I feel that has been rectified by Michael and Sarah [Jessica Parker] speaking up and saying, you know, none of us had deals, none of us were ready, it seemed like a great idea at the time but maybe it was before its time, maybe it needed a saturation time, maybe it needed the Devil Wears Prada to bring people back to Sex and the City.