Kristin Davis has returned to playing Charlotte York - sorry, Charlotte York Goldenblatt - after a four-year hiatus. She recently spoke to Entertainment Weekly about filming Sex and the City: The Movie.
There was also all the insane media scrutiny and hordes of paparazzi while you were shooting. Was that distracting?
Certainly, sometimes, definitely. There's this huge energetic thing that happens in New York. So I feel like it made me go into super-focus land, which is actually a good thing. At one point, my back was to the crowd and the paparazzi â€" the other girls were facing me â€" and the paparazzi were like, ''Kristin, move over! Move to the left!'' And I did it because everyone is shouting at me.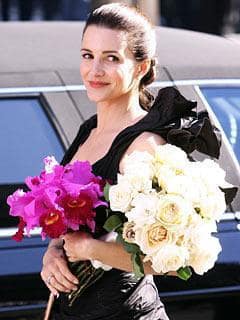 It's like you're a robot. So I move over to the left and I'm like, ''What?! Wait a minute! My mark is over there. I'm supposed to be doing a scene!'' So it was a little challenging, but I don't think the movie would have been made if we didn't have that kind of fan support.

How is Charlotte doing, when we find her?
Well, her journey has been that she now has gotten these things that she has wanted for so long. Yes, they look different than she [originally] wanted, but it's been a satisfying shift for her and she's more grounded, a little bit less high-strung, a little bit less controlling.
The apartment isn't solid white â€" there's some color! And then I would say the biggest issue is that she kind of feels guilty. It's hard when you actually get the things that you fight for so hard and for so long and then maybe your friends don't have them. She feels a little separate from them, which she doesn't want to feel.