The cover story of this week's Entertainment Weekly features a certain famous foursome: Sarah Jessica Parker, Kim Cattrall, Kristin Davis and Cynthia Nixon.
The Sex and the City stars discussed how crazy it was to film their movie n New York City.
"'On my first day, we all had to walk down the street together, and there were hundreds of people on Park Avenue, watching us," said Nixon. "It was daunting."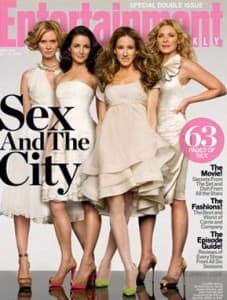 Added Parker:
"It took two to three times as long to shoot. It's flattering that anybody still cares about these characters. But it's like an amoeba â€" ever-growing and out of control."
Sex and the City: The Movie gets carried away - as its posted say - on Friday, May 30.