We already knew that Batman loved his gadgets, but turns out the Caped Crusader is also a fan of strong bones and muscles.
Christian Bale, decked out in his famous superhero suit, is starring in a new Got Milk? ad. The copy reads:
Others reload. Batman refuels. Research suggests that milk's unique mix of nutrients can help athletes recover after exercise. And its protein can help build muscle. So train hard and drink lowfat or fat free milk, because the Batmobile isn't the only thing that needs to refuel.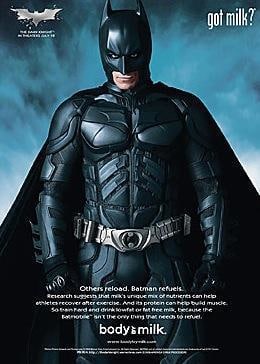 The Dark Knight comes out on July 18.