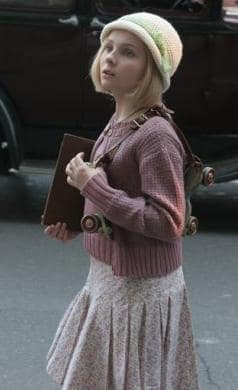 Abigail Breslin stars as the title character in
Kit Kittredge: An American Girl
, the first movie we can think of to be based on a line of dolls.
The young actress recently spoke to MoviesOnline about the project:
Q: What was the best part of making this movie?
Abigail Breslin: The best part of making this movie was, I was so excited to get to do it because one of my favorite dolls was Kit and I collected them all since I was like 8. My grandma grew up in the Great Depression and she told me a bit about that, she said all the clothes were authentic and everyone was pretty much in the same situation back then.
She told me they would put sugar lumps on their tongues and drink the tea over it. I learned a lot about the Great Depression making this movie.
Q: How was the costume and hairstyle for you? It was a wig, right?
Abigail Breslin: Yes it was a wig. It was pretty cool, you know, to get to…I looked really different with it all. It sort of made you feel like you were really in 1934.
Q: How was working with a dog and a monkey?
Abigail Breslin: They were funny! I loved the basset hound. The monkey had a memo. He was a really funny monkey. He was cute.