Gilles Marin may not be a familiar name.
But the French actor has a familiar body to fans of Sex and the City: The Movie. He played Samantha's sexy, often-naked neighbor in the film.
And, according to USA Today, Kim Cattrall would turn up on the Sex and the City movie set to watch Marini's numerous nude scenes.
"She made the trips from her trailer â€" even just for her over-the-shoulder shots," said Marini, speaking with his strong French accent. "She was there all the time to give me as much support as possible for me to act well."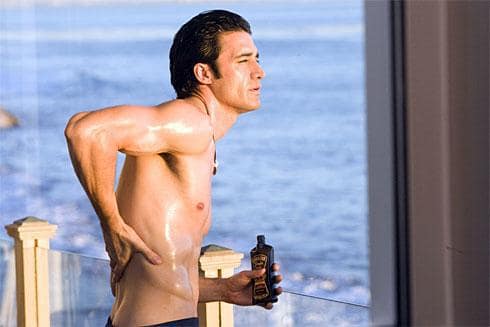 Gilles Marini lathers up in a scene from the Sex and the City movie.
Marini plays Dante, a Casanova who lives in the beach house next door to Cattrall's character. He seduces a new woman (or women) every day, much to Samantha's voyeuristic pleasure.
"He's a woman lover," explained Marini, who in real life has been married to his French wife, Carole, since 1998. They have two children, George, 9, and Juliana, who turns 2 in July.
Before landing his Sexand the City role, Marini, the son of a Greek mother and Italian father, worked in Milan as a runway model for Armani Jeans and appeared in bit parts as either "French Guy" or "Italian Guy" in several daytime and prime-time soaps.
Perhaps now he'll have a new career... as "Naked Guy."